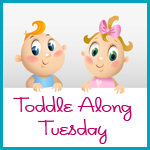 This weeks TAT is supposed to be all about something you love about your child(ren).
I love when we tell Hannah we love her and she replies with 'I love you more'. It melts this momma's heart! Or her extreme passion, right now, for Chip n' Dale Rescue Rangers. Or how she can recite Little Bunny Foo-Foo (a song we sing to her before bed) and include all of my husbands little add-ons (I'll get a video of it one day!).
I love that huge grin Colson gives me every morning when I go in to get him from his crib...or the huge grin he flashes us whenever he is happy or excited. It is the best face in the world! I love the after bottle snuggles and the face planting shoulder hugs. And I love the big belly laughs when I tickle him under his armpits.