I thought it would be fun to look back on my ultrasound pics (even Hannah's) and have them all be in one post for comparison. :o)
We've had a lot more ultrasounds with Colson (and there will be more to come) because I am technically high risk.
So, here we go:
Here is
Colson at 7w3d
. We've got a healthy little baby growing!
Here is
Colson at 20w
. He's a boy!
Here is
Colson at 28w
. Measuring 7 days ahead! YAY! Grow little man, grow!
Colson is definitely more smooched now than 8 weeks ago. It is so neat to be able to see how he is growing. And while I would prefer that we didn't need these ultrasounds (it would mean everything is going normally in my pregnancy), I am glad that I get to see our little man on screen at least one more time before he makes his arrival—which as of right now, will be any day between February 2nd and February 8th. AH! My next ultrasound will be around 32 weeks.
Now onto Hannah's ultrasound photos.
Here is
Hannah's first ultrasound
photo taken at 16 weeks. She's a girl! :o)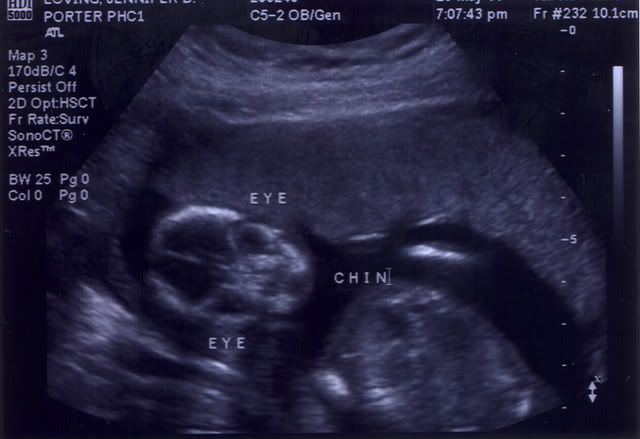 And here is an
elective ultrasound
we had done in 4D with Hannah at 29w. It was so awesome to see her move around and see her precious little face.
I'd really love to do the 4D ultrasound with Colson...I think it would be fun to compare. But since we are having all of the normal 3D ultrasounds done with Colson, I don't really see that happening. We'll just have to wait 10 more weeks to actually meet the little man. I'm sure time is going to fly by now that we're into the holiday season!