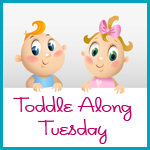 This weeks
Toddle Along Tuesday
is to post what's in your diaper bag.
Here is my diaper bag.
I have had many diaper bags over the past 3.5 years but I have had my Coach one for a while. I love it! The perfect size and tons of pockets!
There are some days where I feel like I carry our entire house in my diaper bag because Hannah is always shoving toys in it...but most days, I just carry the basics.
On any given day you will be able to find the following:
- diapers for Colson
- wipes (usually Target or BRU brand)
- change of pants and undies for Hannah (just incase)
- Goldfish, pretzels, crackers and other snacks (I found these great snack containers at Old Navy)
- a small first aid kit
- placemats for restaurants
- a book for entertainment
- sippy cups for each kiddo unless I forget to grab them like i have been doing a lot recently. Mommy brain!
- my wallet
Ummmm...I think that's it! :o)
Link up with
Growing Up Geeky
and
The Chrancy Family
and share what's inside your diaper bag.