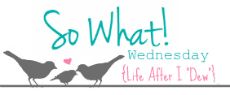 So what if...
I have no desire to figure out what's for dinner, let alone make it. I have all of these delicious recipes pinned but it seems like such a chore lately to go through them and figure out which ones to make for the week.
I have a pile of clean clothes sitting next to me that need to be folded and put away, and all I want to do is take a nap.
The kiddos are still in their pajamas. We're not going anywhere today so, why not!?
I have tons of projects started and I haven't worked on any of them in days, but yet I still want to start new ones.